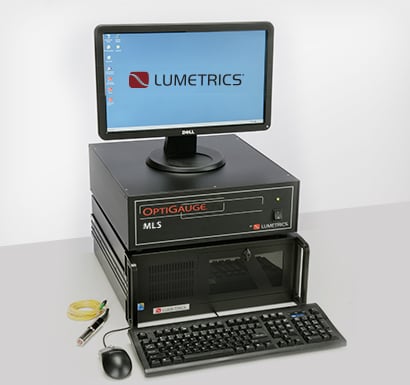 OPTIGAUGE MLS
Absolute Thickness Measurement from 100 Microns to 16 MM
Our patented optical interferometic technology enables the measurement of absolute thickness of virtually any translucent or lightly absorbing materials. The OptiGauge MLS provides real-time measurement of single or multi-layer materials. Sophisticated OptiGauge Control Center (OCC) software calculates and displays thickness result in an intuitive manner.
The OptiGauge MLS provides the ease of use, reliability, and accuracy that has inspired customer confidence for over 10 years.
Key Features
Specifications
Applications
Measurement of up to 20 layers
Automatic calculation of thickness of individual layers and total overall thickness
Top wall, inner diameter, bottom wall, and outer diameter of balloon or tube
Simultaneous contact lens measurement for both Center Thickness and SAG
Connect up to 8 total measurement probes
Includes controller, OptiGauge Control Center Software license, monitor, keyboard, mouse, and optical probe
Thickness measurement range: 12 µm to 16 mm
Measurement Rate: 50 Hz to 200 Hz
Accuracy: ± 0.1 µm
Tubing
Multilayer Thickness
Glass
Medical Balloon
Ophthalmic
Add header here
Some sort of text here would be nice to add a little more content to the page.
TOUCH
Products
Precision Measurement Systems + Thickness Gauges
Products
Precision Measurement Systems + Thickness Gauges
TOUCH
Services
Optical Metrology, Inspection, + Wavefront Analysis
Services
Optical Metrology, Inspection, + Wavefront Analysis
TOUCH
Medical Applications
Medical, Glass, Automotive, R&D, Packaging, Coatings, + More
Medical Applications
Medical, Glass, Automotive, R&D, Packaging, Coatings, + More