About Us
Leaders in Fast, Accurate, Scalable Non-Contact Thickness Measurement Technology + Analysis
The Lumetrics story began in 2003 in Rochester, NY, when John Hart and his fellow scientists and engineers developed the original OptiGauge—a high-precision thin-film measurement technology licensed from Eastman Kodak. Since then, we've expanded our capabilities and services to meet the diverse needs of some of the most advanced applications. We're proud to work for the largest top-tier organizations in:
Today, our scientists and engineers design, develop and manufacture precision non-contact thickness measurement and optical inspection systems for high-accuracy, non-destructive, repeatable, real-time measurements.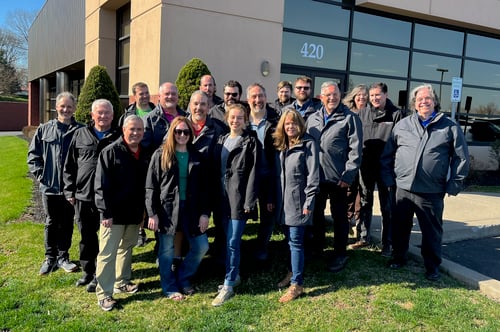 Why Lumetrics
Technical Knowledge + Expertise | Partnership + Collaborative Spirit | Responsiveness + Flexibility
We give the same dedication to every client, building an intimate knowledge of their technology and applications. We pride ourselves on having metrology expertise, industry knowledge, and product capabilities to solve your most complex challenges.
Metrology Expertise
Research, Design, Fabrication, + Inspection
We know what it takes to deliver the data your design, development, and production teams need. No matter your industry, your end product can't compromise on pre-determined specifications, tolerances, and compliance parameters. Conducting precision metrology throughout each step of the process ensures that those quality metrics are met.
Engineering Services
Optical Metrology, Inspection + Wavefront Analysis
Lumetrics' expert engineers design custom metrology fixtures and data analysis packages. Collaborate with us on custom metrology solutions to fit your unique requirements or take advantage of our wavefront analysis of intraocular lenses, contact lenses, and laser beams used by industry, government, and private research centers.
Precision Products
Precision Measurement Systems + Thickness Gauges
Available off-the-shelf or customized, our world-renowned optical interferometric system, OptiGauge®, integrates into your process for real-time, multi-layer absolute thickness measurements at the submicron level, either online or in-line. Integrate into your QA lab, R&D process, or production line and experience fast, accurate, and non-destructive results.
Application Knowledge
Medical, Glass, Automotive, Packaging, + More
The real-time, non-destructive measurements our systems deliver meet the compliance standards of vital applications, including silicon wafer void detection, automotive wedge angle measurements, medical device inspection, intraocular lens measurement, Shack Hartmann wavefront sensors, multi-layer films, and packaging inspection.
Test + Measurement Solutions Designed Around You
Lumetrics works closely with you to understand your process, your needs, your workflow. Our off-the-shelf or custom metrology systems integrate with your existing environment to give you high-precision, non-destructive, repeatable measurements that result in improved yields, reduced costs, less waste, less variability, and higher quality.
Learn more about our services and capabilities