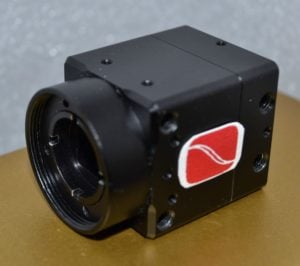 CLAS-FX Sensor
Rapid Testing of Lens Stack Quality
The CLAS-FX sensor is an easy-to-use and customizable camera designed to work with our CLAS-NX software that provides instantaneous absolute difference and is ideal for rapid testing of optical quality. Data collected using the CLAS-FX sensor is displayed in an improved, more intuitive CLAS-NX software interface. This new layout embodies modern user interface standards and allows users to quickly find the most important and commonly used functions organized within a series of tabs and expandable sections.
Specifications
Features
Applications
Software + Accessories
1920 (H) x 1200 (V) pixels
5.86 um x 5.86 um pixel size
41.6 fps frame rate
Global shutter
28 x 28 x 40 mm (camera body)
Single-pass simplicity
Instantaneous absolute difference from the gold standard
Vibration isolation is not required
Easy integration with collimated source
Interferometer-level sensitivities
Configurable to your needs
Interferometry for Quality Assurance and Traceability
Our product line is designed to fit your production line. Explore our optical metrology resources to learn about our capabilities in advanced applications.
TOUCH
Applications
Automotive Glass, Ophthalmics, Wedge Angle + More
Applications
Automotive Glass, Ophthalmics, Wedge Angle + More
Explore All
TOUCH
Services
Custom Metrology, Discovery Service + Product Demos
Services
Custom Metrology, Discovery Service + Product Demos
Learn More
TOUCH
Resources
Ophthalmic IP, Application Notes + Tech Papers
Resources
Ophthalmic IP, Application Notes + Tech Papers
See Resources