Fast, Accurate Metrology Solutions
Multilayer Thickness Measurement
If you manufacture complex films or other light-permeable materials, we understand the challenges you face with multilayer film thickness measurement and Quality Assurance inspection. Outdated measurement techniques can be tedious and unreliable. The results sometimes depend more on the accuracy of a weight scale or the sharpness of a razor blade than a true measurement of the product.
Unreliable measurement methods are problematic when newer, stricter FDA regulations require many products and materials to have a NIST-traceable inspection history that cannot be obtained using older inspection methods.
That's where Lumetrics' non-contact thickness measurement and inspection systems deliver an advantage.
Typical Applications
Silicon Wafer Inspection and Void Detection
Measuring Multilayer Film Stacks in Consumer Electronics
Adhesive Uniformity on Porous Substrates
Refractive Index of Polymers in Air and Liquid
Multilayer Barrier Films in Food Packaging
Thickness Gauge Systems
Lumetrics builds metrology solutions, like the OptiGauge II, that enable simultaneous film thickness measurement of multiple layers and coatings of multilayer films, online or in the lab. The results are fast, accurate, and non-destructive, helping manufacturers to:
monitor thickness
analyze real-time data to help control process
reduce expensive material waste and boost yields
OPTIGAUGE® II
Our OptiGauge II technology provides optical, non-contact medical tubing and catheter thickness measurement for dimensional testing of all types of extruded tubing products. You can install the system on your production line for real-time inspection of silicone, plastic, or glass tubing, or in your QA lab for accurate thickness measurement of tubing samples.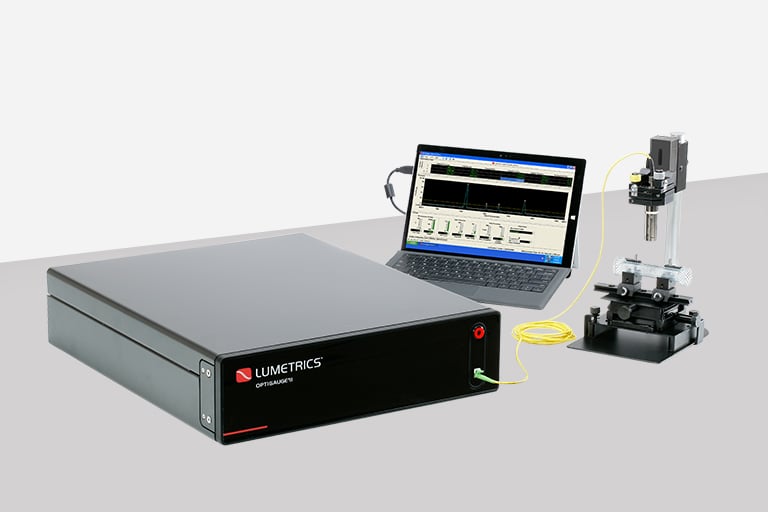 Multilayer Thickness Measurement Resources