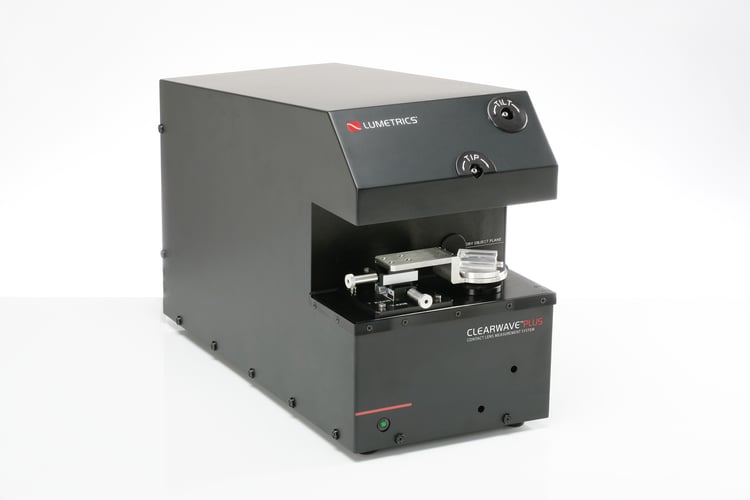 CLEARWAVE PLUS
Measure CT, SAG, Wavefront, and More With One Button
The ClearWave™ Plus uses a modified ClearWave in combination with the industry standard OptiGauge® thickness measurement system. This provides contact lens manufacturers center thickness (CT), Sagittal Height (SAG), diameter, radius of curvature, and all the wavefront measurements that currently require three separate systems to obtain.
Lumetrics is the leading provider of ophthalmic-related measurement solutions, and the ClearWave & OptiGauge systems have been implemented in the world's leading contact lens manufacturers, R&D laboratories, and production facilities. The ClearWave Plus provides the best of these products in a single operator-friendly solution that results in less handling of the contact lens. The ClearWave Plus has been designed for fast and accurate screening of contact lenses. All this with the simplicity of one-button operation.
The ClearWave Plus is the ultimate metrology solution for contact lens manufacturers providing simultaneous measurements of:
Sphere, Cylinder, Axis
Zernike Wavefront Aberrations
Diameter, CT, SAG
Label Power
Lumetrics wavefront measurement systems and software improve measurement capabilities in advanced applications such as:
Metrology Instrumentation, Integration, + Solutions
Our product line is designed to fit your production line. Explore our resources to learn more about our capabilities and advanced applications.
TOUCH
Technical Paper
Measurement accuracy of a stressed contact lens during its relaxation period
Technical Paper
Measurement accuracy of a stressed contact lens during its relaxation period
Read Now
TOUCH
Technical Paper
Multimodal characterization of contact lenses
Technical Paper
Multimodal characterization of contact lenses
Read Now
TOUCH
Article
Accurate measurements of phase refractive index of soft contact lenses
Article
Accurate measurements of phase refractive index of soft contact lenses
Read Now