Glass Inspection Applications
Glass inspection applications: Float Glass, Automotive Windshield, Glass Tubing, Cell Phone & Tablet Glass, Glass Slimming, Glass Ampoule, & Optics
Float glass measurement—Real-time, accurate, online glass inspection and measurements for float glass lines. Measuring glass both in the tin bath and just outside on the hot end is critical to plant efficiency because it allows for the fastest feedback to the plant operators. We can position your OptiGauge® system thousands of feet from the oven and run fiber optic cables to the probe or probes doing the measurement at the line.
Glass slimming measurement—For manufacturers who use hydrofluoric glass slimming operations, we've engineered a specially coated probe to insert into the chamber in an alignment system that keeps the probe perpendicular to the glass being treated. It's less risky, and it can save up to 30% in production time, according to some customers.
Glass tubing measurement—Reduce variability and improve yields in the production of Glass tubing by using online multi-probe fixture to track wall thickness, ID, OD, concentricity, ovality, and other variables while the tubing is being extruded. These measurements can be fed back to the control system for rapid real-time adjustment of the process. The systems can be applied to a wide range of products, from capillary tubing to florescent lights.
Automotive and architectural glass measurement—In these industries, many related glass products are composites of glass and PVB, which presents the challenge of how to spot air pockets or gaps between the layers that can make the glass dangerously unstable. The OptiGauge also allows you to measure the wedge of the windshield which is critical with the new HUD technology. Lumetrics technology makes it easy to analyze these composite materials for gaps and air pockets.
Glass ampoule measurement—Whether the tubing provider or the end user, many of our customers in this area are in the medical market and their needs center on quality, scrap and yield.
Optical flats measurement—Lumetrics provides fixturing for typical optical components and, when needed, partners with other mechanical design teams to produce a system tailored to a customer's design.
---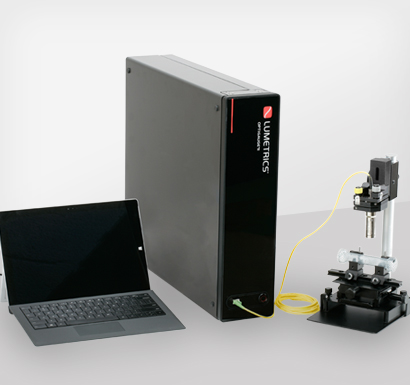 The OptiGauge II is an ideal non-contact thickness measurement system for companies needing an accurate, non-contact system for single and multi-layer thickness measurement. It is non-destructive and objective, leaving no margin for operator error. It is ideal for glass applications such as windshields and other coated glass products where traditional methods fail. OptiGauge II can be particularly useful in Quality, R&D labs, and production floors because it can improve yields, reduce costs, increase quality, and meet compliance requirements.
Learn more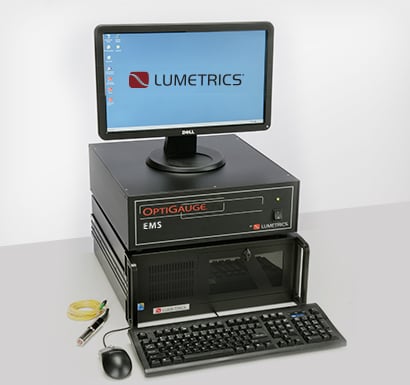 The OptiGauge EMS uses the same core hardware and software as the OptiGauge II but is tailored to applications that require a bit more measurement range than the standard OptiGauge. It's ideal for float and architectural glass when you need a larger thickness measurement range. The OptiGauge EMS can be used on the hot or cold end of a float glass line to provide instantaneous measurement and feedback to the control system.
Learn more