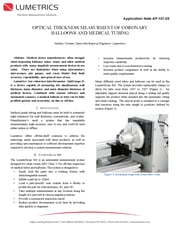 Medical device companies are continually innovating their products. This includes the ongoing development and manufacture of coronary balloons and catheters. Products such as these must adhere to strict internal and external compliance standards.

Several manufactures have implemented Lumetrics high precision optical metrology solutions that are differentiated by having the unique ability to provide Wall/ID/OD measurements in the same location at the same time thus allowing manufacturers to better manage their processes.

To gain insights on innovative metrology solutions offered by Lumetrics please refer to the following application note specific to the optical thickness measurement of coronary balloons and medical tubing.
LEARN MORE IN OUR CORONARY BALLOONS AND MEDICAL TUBING APP NOTE.
Download your White Paper: